Selecting the perfect set of tiles for your home is no cakewalk. There are a number of aspects to keep in mind before finalising the best tiles design. It is not merely about well-chosen colours and appealing decor elements. It is also about functionality and convenience.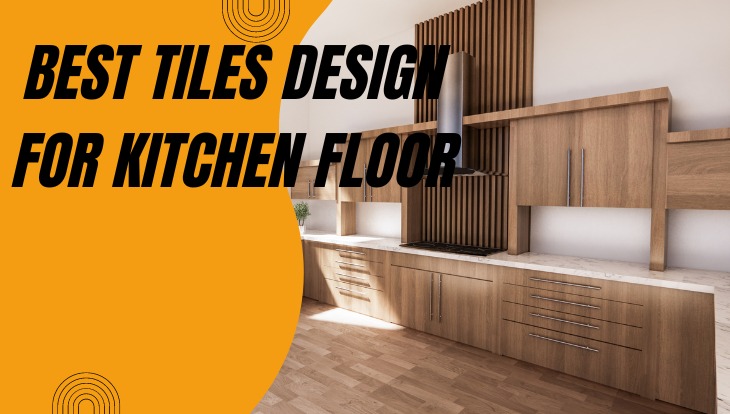 Only selecting Kitchen tiles design for wall or floor is not enough. You also have to make sure they go with your countertop and backsplash. For all the sumptuous gravies that blend together rich traditional, rich, aromatic spices that have been passed down from generations, you have to have tiles that can withstand it all. The counters and walls get splashed and splattered with oils and heat which accumulate in all the seams and corners. The tiles on your backsplash (which is the space between your countertop and upper cabinets), should be durable and stain proof, so that they are easy to clean.
Here are a few of the latest tiles design for kitchen floor, walls, countertops or backsplash – that might inspire you to select the best design for Kitchen tiles:-
#1 Vitrified Tiles
Vitrified tiles are manufactured by compressing clay, quartz and silica, along with additives, and they are hard, with low porosity and very durable. Hence they are good for wet areas such as your bathroom or kitchen floors. They are available in a wide range of colours, designs, sizes and finishes. Vitrified tiles are suited best for your kitchen walls and backsplashes too, as they can be easily wiped clean by simply using water and soap. They do not fade or chip away with use and will retain their look for years together.
#2 Glass Tiles
Glass tiles are another popular option that offer a stunningly elegant alternative to conventional tiles. They are available in bright solid colours that can be mixed and matched to go with your interior. These tiles can be fixed onto a larger base as they are available as small individual units, and then mounted on the wall. They are easy to clean and very durable. However, owing to the small size of the tile units, there are many joints or hinges which are prone to accumulate dirt and grimes with time.
#3 Terrazzo/Mosaic Tiles
Well known as Mosaic tiles, Terrazzo is made of a composite material. It uses small pieces of marble, quartz, glass or mirrors on a poured cement or epoxy base.
Because of its sustainable nature (being made of small pieces of scrap material), Terrazzo is the perfect tiles design for kitchen with price that fits your budget. It is durable, non-porous and very easy to clean and maintain. These tiles can be used as backsplash material as well as the countertop.
#4 Wooden tiles design for Kitchen
This is the most popular tiles design for Kitchen floors. It appears like an upgraded version of a natural wooden floor– grainy and rich in texture. If you're going for a nature-inspired theme for your home, then this design is perfect for you. It is a brilliant choice for a minimalist decor,transcending the overall aesthetic of the place.
#5 Digital Tiles
With the advent of digital photo printing technology, digital tiles design for kitchen floor and walls are the new trend. This technology has its perfect use to design wall tiles for kitchen. You can now transport your favorite photo on your tiles whether it's fruits, flowers, or your favorite vacation photos. These tiles are empowered with a protective varnish layer, to completely transform your kitchen space. However, these tiles demand high-maintenance as the space between the tiles affect the hygienic aspect.
#6 Natural Stone/Marble-textured Tiles
If you love a simple and minimalist decor, but still want an elegant look, marble tiles design for kitchen floors is the way to go. experience space unity and visual harmony combined with tiles featuring neutral pastel colours like white, off-white, cream, light beige, and light peach give your Kitchen a rusty look.
#7 Border Tiles
If you're looking to add a striking design to your plain kitchen or bathroom tiles. With the right tiles border design for your kitchen you can create interesting patterns that separate different areas of your kitchen or any other room. Such as the space between your countertops and refrigerator, or your shower and dresser in your bathroom.
#8 Metro Tiles
Another tile design if you're going with simple, elegant and minimalistic decor are these tiles. Metro tiles have a timeless and ubiquitous look that is agreeable with every aesthetic. There are a variety of tile patterns available with Metro tiles design. Whether you're looking for glossy, matte, plain grout, metro tiles gives your kitchen area bigger than it is. You can explore a variety of popular styles such as diagonal, herringbone, vertically offset, staggered, and many more styles.
#9 Stone Tiles
Tiles made of various natural stones such as granite, onyx, marble, slate, sandstone, etc are popularly used as floor tiles. Be it for walls, countertops, backsplash or floors, granite tiles design for kitchen spaces are the most natural, yet compelling look amongst stone tiles. To give a rich, textured look various glazed stone tiles can be used.
#10 Porcelain Tiles
Bestselling for their remarkable water-resistant capacity, porcelain tiles are one of the best choices for wet areas, similar to vitrified tiles. They come in a variety of sizes and shades. Baked at an extremely high temperature, they are the ideal tile for a kitchen that comes with a lot of spill incidents. If you're looking for something low-maintenance, porcelain tiles are the way to go. They are most popular for being resistant to harsh stains such as those in conventional Indian Kitchens and are way easier to clean.
The most impactful, sustainable and cost effective way to revamp your kitchen area is indeed by experimenting with such modern tile solutions. Qutone ceramics is a global tile manufacturer, with its presence in over 60 countries. They cater to a wide array of tiles and finishes, whether it's polished, semi-polished, stone, rustic or mosaic. Find all the desired looks to reinvent your kitchen walls and floors with Qutone Ceramic's extensive collection. All under one roof! Whether you want your space to be timeless and cozy, highly functional, or exotic and luxurious, the choice is up to you because sky is truly the limit with Qutone Ceramics.